DES MOINES, Iowa ― "Can you tell me your mother's name?" Sen. Kamala Harris (D-Calif.) asked from across the table.
The woman she was speaking to, Monica Reyes, a 28-year-old with DACA status, had traveled to the Iowa Capitol on a blustery Saturday morning in February to let the senator know how much her immigrant mother had done for her growing up. And now Reyes wanted to know what the senator could do for people like her mother if Harris is elected president.
Harris would eventually give Reyes her position on the matter, criticizing the Trump administration for "trying to create a scapegoat" out of Mexicans and reiterating her support for comprehensive immigration reform, Deferred Action for Childhood Arrivals (DACA) and Deferred Action for Parents of Americans and Lawful Permanent Residents (DAPA).
But before she did that, she wanted to know the name of Reyes' mother. It's Brenda, Reyes said.
"I think it's important," Harris replied, "that we speak her name.
"Her story is the story of so many people, and I applaud her."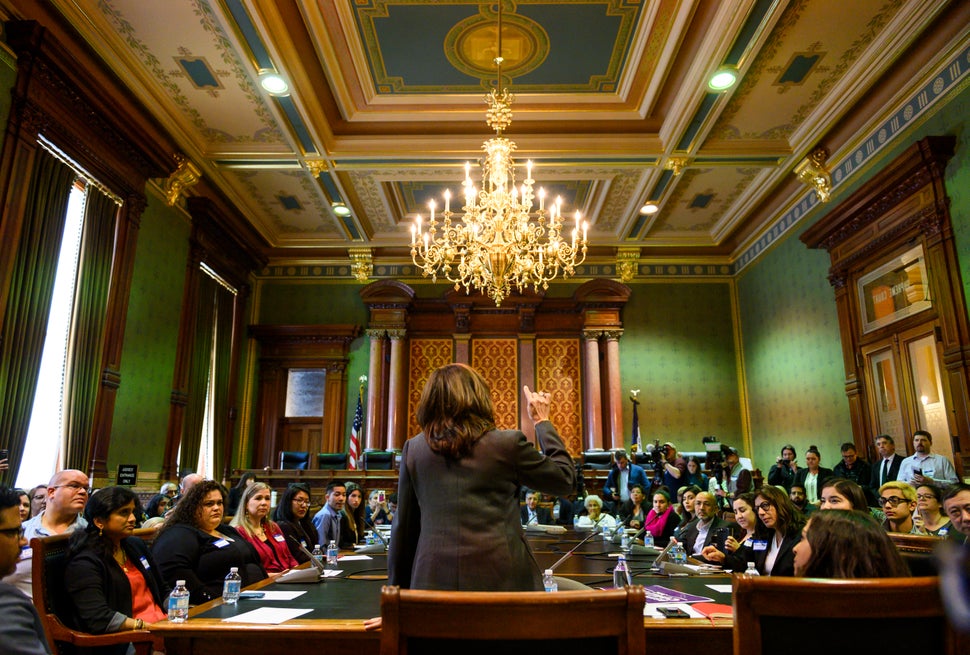 The audience applauded as well. Over the course of her first full-on tour around Iowa this weekend, Harris' ability to boil such political moments down to the personal garnered many of her largest cheers. The next day in Bettendorf, she spoke about the pain of watching her mother battle colon cancer before she died in 2009. "It requires physical strength, emotional strength, mental strength, but what that should not require of anyone is that you also have to figure out how you're going to pay those medical bills," she said to loud applause.  
Dan Audi, a 54-year-old maintenance supervisor who is considering Harris, Sen. Sherrod Brown (Ohio) and Sen. Amy Klobuchar (Minn.), said after the Bettendorf event that he appreciated Harris' "positive, happy persona."
"You can be a fighter without being angry," he added.
But after the previous morning's event, Reyes said, she couldn't help feeling that Harris' answer fell short. The former California attorney general is positioning herself more as a common-sense fighter, sans the wonkiness of Sen. Elizabeth Warren (Mass.), but her trip in Iowa made clear that voters are still expecting their candidates to have detailed policy ideas and know the issues inside and out. 
"I felt like she maybe needs to know a little more about the current and past policies on immigration to be able to better answer the question that I gave her," said Reyes, a co-founder of the immigration advocacy group Dream Iowa, as Harris stood nearby. "Not just her but all of the presidential candidates."
Iowans have long taken their responsibility seriously as the first state to hold a Democratic nominating contest every presidential election. Elementary schools teach children about the complicated caucus process, instilling in many of them a sense of democratic duty, said Sean Bagniewski, the chairman of the Polk County Democrats.
"It is ingrained in you, as an Iowan, that one of your roles in America is to vet and screen and vote for presidential candidates," he said.
But a year out from the 2020 Iowa caucuses, many feel an even higher sense of obligation to make sure they put the correct candidate on track in the presidential primaries, peppering candidates — including Harris, Warren and Sen. Kirsten Gillibrand (N.Y.) — with questions that can border on the uncomfortable. 
"The whole country is depending on us to have smart, wide-open conversations," said Sue Dvorsky, a former Iowa Democratic Party chair.
Regardless of the various shifts in the primary process, the state's influence remains indisputable. Every Democrat to take first in Iowa has gone on to win the primaries after 1992, when an Iowa native, Tom Harkin, bested an Arkansas governor named Bill Clinton at the caucuses. The stakes are also more than clear with a wide-open Democratic field and growing ideological fissures in the party, not to mention President Donald Trump.
Democrats around Iowa appear to understand the urgency of the moment as well. Bagniewski said he recently helped set up a last-minute event for another presidential candidate, Gillibrand, and 50 to 60 people were expected to attend, but about 300 showed up.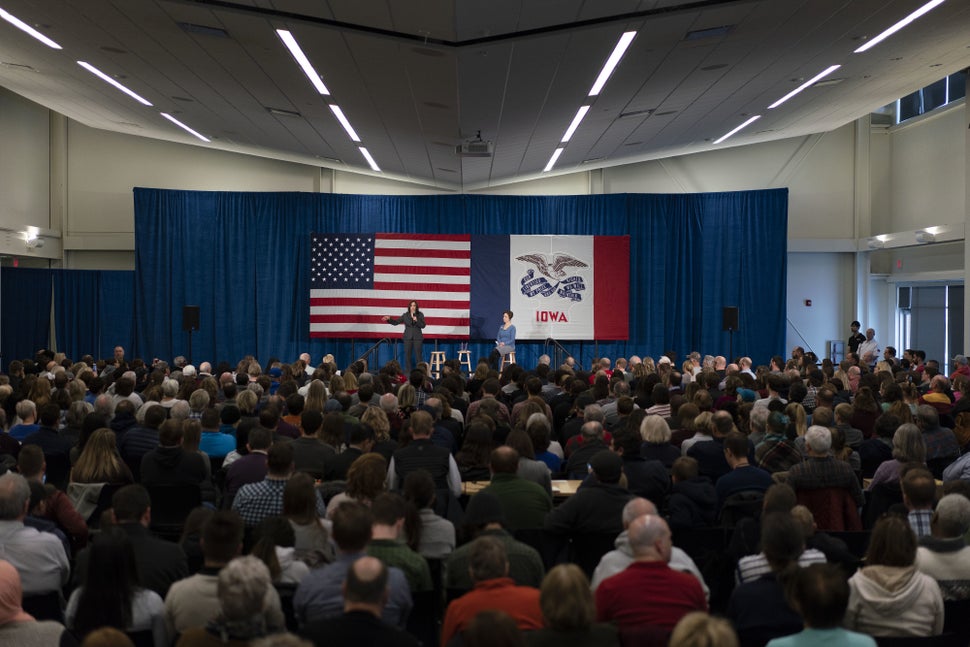 This weekend, it was Harris' turn to cycle through Iowa, and crowds once again turned out in droves for her first full tour around the state. According to one of her aides, 760 people braved the cold to watch her speak in Ankeny on Saturday ― so many that the organizers had to rush out more chairs as the event began. The next day, 750 showed up in freezing temperatures to watch her speak in Bettendorf. Early polls of likely Iowa caucusgoers have placed her far ahead of Gillibrand and roughly in the top tier with former Vice President Joe Biden and Sen. Bernie Sanders (I-Vt.). Some who attended the events, like 20-year-old Jordan Milligan of Upper Iowa University, have already decided Harris is their candidate.
"She's the one," he said.
But many other attendees were undecided, there more to vet than to cheer. That even included some who attended the gatherings in Harris T-shirts, like Justin Comstock, a self-employed 43-year-old who said he was "window shopping" last Saturday.
"I'm coming into it with an open mind and expecting to see if the hype's there or not," said Comstock, who said he's also intrigued by Klobuchar.
"We'll probably go see everyone," said Jim Woods, 67,  who spent 25 years at the Davenport Fire Department before becoming a teacher. "This is Iowa. They just come through."
As much as Iowa Democrats have high expectations of themselves to pick the right contender, they expect even more of their candidates. Like Reyes, many Iowans take pride in their willingness to ask tough questions, said Jeff Link, one of the state's top Democratic strategists. That isn't exactly new. He still remembers riding around the state with then–Vice President Al Gore as his state director during the 2000 presidential election. "It was just mind-boggling the kinds of questions he would get," Link said. "They're not just going to ask about corn."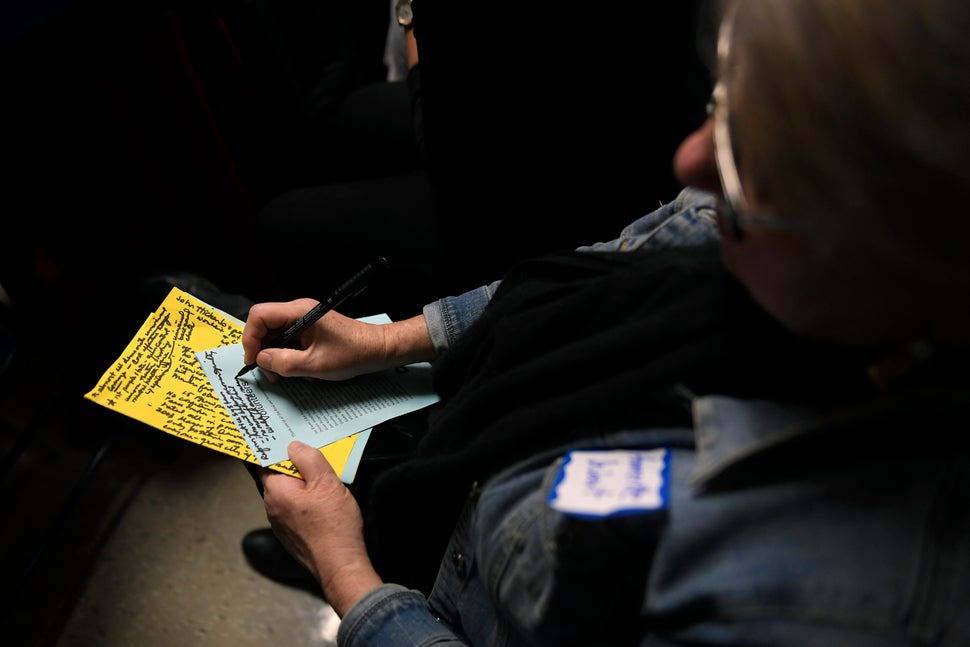 Some of the questions thrown at Harris were light, like the man in Ankeny who preceded his question by telling her he also puts hot sauce on his greens, and she received loud applause for her shots at Trump ("The first thing is to not conduct trade policy through tweets," goes one well-practiced line) and for toeing the Democratic line by pushing for universal background checks for gun sales, free college, "Medicare for all" and her proposed LIFT Act, which would hand middle-class households up to $500 per month.
But over the course of the weekend, she also fielded pointed questions on topics such as Puerto Rico, agricultural technology, foreign policy and the environment. In Ankeny, a young man asked whether she would support abolishing the Senate filibuster, adding, "Just give me a really articulated defense on wherever you come down on that issue."
"That's a great question!" Harris replied, before joking, "Let's change the subject!" (She then said she felt conflicted on the issue.)
In Bettendorf, a man in the crowd wanted to know where she stood on Israeli-Palestinian relations and whether she would release off-the-record comments she made to the American Israel Public Affairs Committee last year. When she didn't answer the AIPAC part of the question, he yelled it out again, leading her to say, "Sure," while the microphone was away from her mouth. (Her team later released a transcript to HuffPost.)
Even an opening question from a young girl named Nora, who was sporting a "Future president" T-shirt, proved far from a softball, as she asked Harris how she would deal with the $22 trillion national debt. "It's like not being invited to a birthday party but still having to bring a gift," the young woman said.
The last time Harris touched down in Iowa, in January, one of her answers to a question led to a small national controversy, when she suggested at a CNN town hall that she supported eliminating private health insurance. (A spokesperson said a day later that she is open to more moderate health insurance fixes as well.) This time around, she impressed many of the people who spoke to HuffPost.
"She's done her homework," said Mary Campos, 89, a co-president of the Brown and Black Presidential Forum. "She's ready to answer questions."
Richard Lynch, 51, said he supported Sanders in 2016. While he said that Harris "sidestepped" some of the questions she was asked, he added that he welcomed all candidates moving into Sanders' space. Asked if he believed Harris had done that, he cited her support of "Medicare for all," saying, "It sounds to me like the answer is, yes, she's moving into the space he created, and frankly, I'm not sure it should be his space, per se."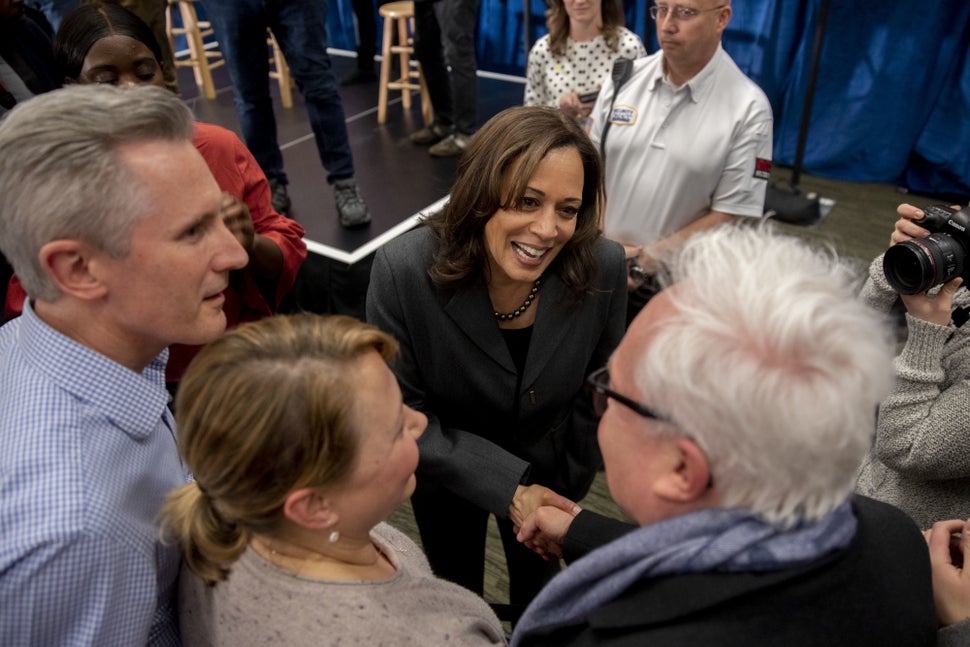 Ed Fallon, an Iowa talk show host and the director of the environmental organization Bold Iowa, said he wished Harris had organized smaller events, where people could have even more time one-on-one time with her.
"That's great when a candidate can draw that big of a crowd, but it's good to try and organize smaller opportunities as well," he said, "where you can look them in the eye and dialogue with them directly about where they stand about things that you care about."
"So far, I haven't had that experience with Harris," he said. "Hopefully that changes."
Blizzardlike conditions forced the Harris campaign to cancel two smaller events Sunday morning in Waterloo, Iowa ― a stop at a coffee shop and a meet-and-greet at a Baptist church ― but after most of her events last weekend, the senator stayed around to take questions and pose for photos.
That included her discussion Saturday at the Capitol, where Harris spoke for a few moments with Reyes, who had asked the question about immigration. Reyes told the senator that she felt her answer focused too much on DACA and DAPA, which deal with only a fraction of the undocumented population. Reyes said she hoped Harris would be more inclusive.
"She, at the end, was like, 'You know, I understand, and I'll do better at that in the future,'" Reyes said.
Reyes isn't a mind reader, she said, so she can only hope Harris was being honest.